I've been on a roll with the photography this week, but today's post proves that even good photo sessions go bad. There are always photos that don't make it to the day's post, and some bloopers are real doozies… like the ones I'm sharing with you today!
Remember how nicely that sombrero fit on my head for the original blog post? Well, there were definitely wardrobe malfunctions along the way, and this was one of them.
I had lots of fun in the backyard the other day… but there were also moments where I felt like my human was wasting my valuable bird watching and step-rubbing time! Here's proof.
Why my human chose to take a photo of me doing this, I have no idea! I hope all those compliments about yesterday's photos of me haven't gone to her head. This should bring her down to earth.
And… that's what I have for you today! I hope you enjoyed my bloopers!
* * *
---
---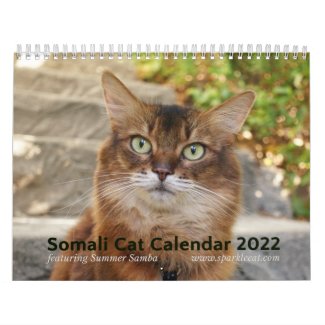 2022 Somali Cat Calendar Starring Summer Samba
See all of Summer's merch at her
her Zazzle Designercat Shop