My human has a bad habit of taking photos of me, and sometimes Binga and Boodie — and then having no idea what to do with the photos. They aren't good enough to put on cards or mugs in the Zazzle shop, they don't tell a story, and they didn't make it to the outtakes, so they've just been sitting there in the January 2015 folder on her laptop. But why let them go to waste? I figured I would share some of them with you today. Like the photo above — I have no idea what I was thinking! Neither my human nor I could come up with an appropriate caption. Maybe you can.
My human did a whole photo session of me wearing this dress — and then couldn't figure out what to do with the pictures! I mean, it's a nice enough dress but it's not so special that it deserved a whole blog post.
That same day, she photographed me in this vest harness that I'll probably never wear out because it's totally not secure. Looks nice, though!
This photo session went on long enough so that it got bombed, even though my human wasn't holding treats.
Here's another "I don't know what I was looking at" photo. Whatever it was, I did not approve!
Boodie was sitting so nicely in this box that my human had to get some photos. But why? There's really nothing to say about it, and no kitty made her leave. Like Boodie herself, this picture's just been sitting quietly, not bothering anyone.
I really look like I'm trying to eat that toy in this photo, don't I?
And this box looks like it is trying to eat me!
There are more photos where these came from… but I think you've had enough!
* * *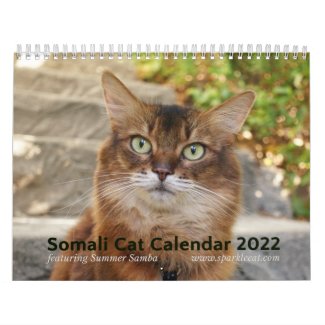 2022 Somali Cat Calendar Starring Summer Samba
See all of Summer's merch at her
her Zazzle Designercat Shop