Look at all the holiday outfits I've accumulated over the years! This storage box is overflowing! I'm supposed to meet Santa on Sunday, and I have no idea which outfit to wear. I'm going to put on the most likely things, and you tell me!
Well, I've nixed this one already. Even though I'm not mad, it squishes down my ears and makes me look like I am! And it's annoying to wear, so maybe I am not-so-thrilled about it anyhow. This one will not be in the poll.
Maybe I should go simple, with just a hat and scarf. This hat is one of the few that is pretty comfortable to wear.
Plus I can wear it a couple of different ways.
There's always my old standard, my Santa Baby dress with the pom poms. I'd worry that maybe Santa would recognize it from previous visits… but I get the sneaking suspicion that I'm not always seeing the same Santa. Hmmm…
But I also have a second Santa Baby dress! This one is a little more subtle on the festive vibe, though. And it has a flouncy skirt.
And I have another Santa-y dress with pom poms and no "Santa Baby" on the back.
Or maybe I could go really simple and just wear this festive jingle bell collar?
So what do you think? Vote below and let me know! Have more suggestions? Tell me in the comments!
Loading ...
* * *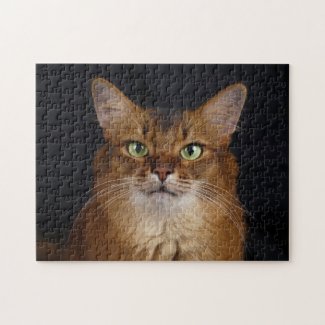 Somali Cat Photo Portrait Jigsaw Puzzle
See all of Summer's merch at her
her Zazzle Designercat Shop