I thought it would be fun this weekend to look back on past Labor Days. I have to say, while most humans are taking it easy, I've been pretty busy! Even right at the beginning.
This is from Labor Day 2014, and as you might guess, I had just been spayed. So I decided to throw a Spay Day party in lieu of Labor Day! And yes, that is my breakfast on my nose.
Being spayed paid off because in 2015, I was celebrating my award as Fourth Best Somali in Premiership (the altered class) worldwide! That was pretty exciting, and it meant that all those baths I had to take paid off.
In 2018, it looks like I was ready to go to work, not take a long weekend! That was when I was modeling the pile of ties my human ordered from Amazon for me.
Last year, I spent Labor Day weekend doing a Christmas themed photo session for cards and the calendar. But guess what? No photos from this session made it into the calendar, not even the outtake one.
Here's another shot from that session, just to prove it may have been one of my worst photo sessions ever.
Amazingly enough, I wasn't doing anything specific on the other Labor Days!
So what did you think? Which past Labor Day was your favorite? Let me know in the comments!
Other posts you'll enjoy:
* * *
---
---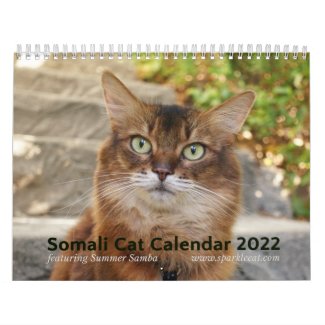 2022 Somali Cat Calendar Starring Summer Samba
See all of Summer's merch at her
her Zazzle Designercat Shop