I thought I would try something fun and a little bit different and see what I was doing on this exact day in previous years. It was cool! As you can see, a year ago I was posing in a bunny suit for my 2021 calendar. Yes, we had done a photo session on Easter, but my human wanted to go back and get some slightly better shots.
In 2019, I was modeling my hipster kitty outfit, fully accessorized! I'd had the basics for a while, but it took my human a few months to put together the whole ensemble which, I have to say, is pretty awesome.
I thought I'd carry on the tongue theme with photo from 2018. On this day, I was playing with this fun toy, and having loads of fun!
In 2017, I was telling you all about the cat show I attended in Pomona. Loved the show, hated the hotel room… but the hotel room is a story for another day.
In 2016, I was taking selfies on the bridge around the back of my house. This one, as you might have guessed, was an outtake.
In 2015, my human was desperately trying to get decent photos of me because I was a cat show regional award winner that year and she hadn't gotten pro photos of me yet. This shoot did not come out very well and things went wrong, so she had to do them over. Fortunately, her technique has improved since then.
I hope you enjoyed this look back! I thought it was pretty cool but I'm not sure I'm going to do it again. It made me feel old because there were so many years!
Other posts you'll enjoy:
* * *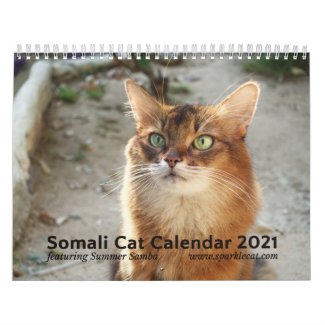 2021 Somali Cat Wall Calendar, Starring Summer
See all of Summer's merch at her
her Zazzle Designercat Shop