I was wondering what I was doing last February, so I took a look in the archives… and I was really busy! I had cat shows, I traveled across country, I went shopping. So I'm sharing some photos you didn't see from any of my posts back then. The above photo is from my trip back east for Meet the Breeds. A friend of ours gave me a peacock feather, and I got to play with it a lot!
Here's another photo of me playing. It was from a photo session I did modeling a couple of dresses. The reason it didn't show up in the blog post I've linked to? I was wearing a different dress in all the other photos!
This photo is from the Glendale Cat Show, which I attend every year. You can probably guess why this didn't wind up in the blog post.
I was shopping with my human at one of our local pet shops… and she must have just told me I couldn't have a toy I was eyeing.
This seems to happen a lot during my shopping trips!
And we are back in New Jersey for the final shot. I look pretty cozy here, don't I? I love hotel life!
I hope you enjoyed this little flashback.
* * *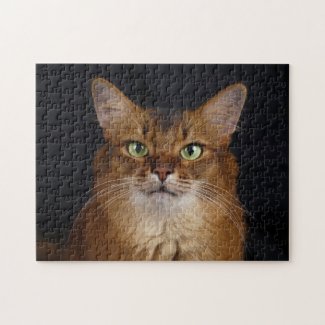 Somali Cat Photo Portrait Jigsaw Puzzle
See all of Summer's merch at her
her Zazzle Designercat Shop