A lot of bloggers and social media kitties celebrated Black Cat Appreciation Day yesterday. Binga thought that was all well and good… but what about Tortie Appreciation Day? Well, she does have a point — tortoiseshell cats have almost as hard a time getting adopted from shelters as black cats do. And torties are one of the most likely to be returned too. So she thinks she, I mean, all torties, should have their own day. Since they don't (at least not yet), I told her she could at least try on a couple of my outfits.
I thought maybe she could try on a t-shirt I got while I was in Vancouver, BC a while back. But I'm not sure that pink is her color.
She wanted to try posing by the railing, and honestly, she did look a lot better posing over there.
Next, she tried on one of my dresses. It actually looks pretty good on her!
Then she decided she wanted to try an action shot. That didn't work out very well.
Maybe you are wondering what I thought of all of this.
I hope she didn't see that, or I may be in trouble.
* * *
---
---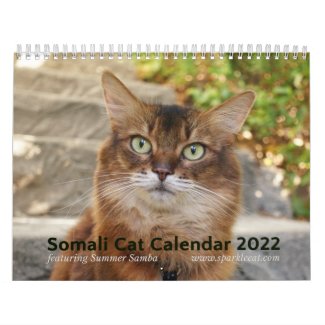 2022 Somali Cat Calendar Starring Summer Samba
See all of Summer's merch at her
her Zazzle Designercat Shop