On Friday, I got to hang out for a while in front of our house and enjoy the spring weather. Even though I wasn't going anywhere, I wore my cool pink satin harness with the bow and faux diamond accent.
But don't think I just sat around looking pretty! I also chased birdies! Well, as much as a cat can chase birdies when she is attached to a leash. It was still fun.
Saturday, I got to go to the Los Angeles County Store in Silver Lake. They only feature items made in Los Angeles, and our friend at Feline Yogi was having a trunk show featuring her cat yoga mats and cat toys! She combined it with an adoption event featuring kitties from LUXE Paws.
I wanted to check out the new yoga mats, so I asked and it was okay!
As you can see, they come in all sorts of colors — including Black Cat Black!
While I was up there, I smelled something really interesting. I mean, besides the mini cupcakes my human was eating.
It was a baby kitten in a birdcage! Like, really a baby — she was about four weeks old, and hanging out sleepily.
Now, that is something I don't see every day!
Which brings me to my announcement — no, my human is not adopting that kitten! It's about me! I handled last weekend's flight okay, and am getting comfortable enough being out in public that my human has decided I can come to BlogPaws in May with her! So we are both going to Nashville for the first time ever! I am really looking forward to it.
* * *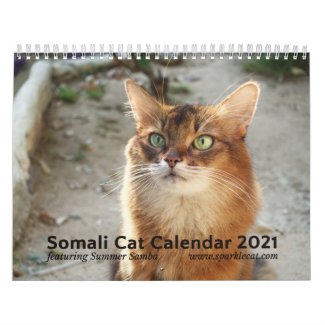 2021 Somali Cat Wall Calendar, Starring Summer
See all of Summer's merch at her
her Zazzle Designercat Shop