Look at what I caught! Okay, I didn't totally catch it. But I did find it in the living room. I stalked this vicious lizard for hours and hours before my human even noticed that the living room had been invaded! I had cornered it by the time she came over to see "what I was up to." It was a scary moment as she uncovered the dangerous critter. Never mind that she claims it was "cowering in a crevice." Anyhow, she went and got her bug and lizard catcher, which is what she calls this plastic container. And she managed to coax this almost-certainly poisonous thing into it.
Okay, so it wasn't very big, and it probably wasn't poisonous.
My human thinks it is probably a baby western fence lizard.
Anyhow, I thought I was going to keep it as a plaything or trophy or something, but my human wound up taking it outside and setting it free. My human claims I never catch anything. Which technically is right, I guess. But would she catch these things if I didn't find them first? So what do you think, was my living room hunting excursion a fail? Or am I a mighty hunter like I look here?
Oh yeah, and there's video!
* * *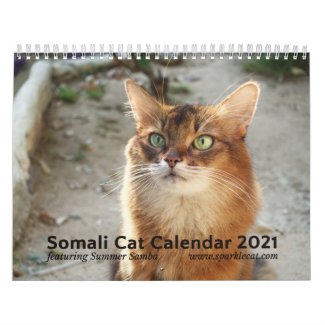 2021 Somali Cat Wall Calendar, Starring Summer
See all of Summer's merch at her
her Zazzle Designercat Shop