My human actually did bring home some more wardrobe boxes from Michaels (40% off!). That's right, boxes, plural because there was no way just one would suffice. Here is why.
It took one box alone for all my sweaters! The accessory tray at the top is for my knit hats and scarves and such.
And… wait, where did she come from?
Well, that was fast! She left already. Anyhow, I needed another box for my spring and summer dresses. That box got filled up pretty fast.
And my Christmas wardrobe needed a whole box of its own!
Here are all four wardrobe boxes, and as you can tell they are all completely full! You are probably wondering if I had even more clothes that wouldn't fit. I did! And my human found a temporary place for them until she figures out what to do.
I hope she finds something more appropriate soon.
* * *
---
---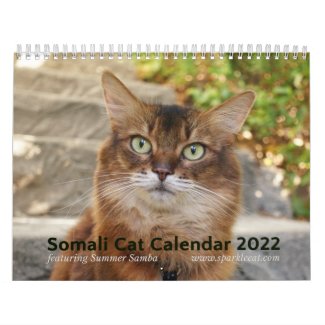 2022 Somali Cat Calendar Starring Summer Samba
See all of Summer's merch at her
her Zazzle Designercat Shop