I bet those of you who saw yesterday's post are wondering what I'm gonna do with this box. My human picked it up at Michael's when she was shopping for something that, shockingly, had nothing to do with cats! But of course, she couldn't leave without something meant for me. Although it's meant for crafts, my human thought it would be perfect as…
A wardrobe box for me! Of course, she isn't silly enough to think all my clothes are going to fit in here. She figured she could use it for just my costumes, since they don't get used all that often. The only thing is, I seem to have a lot of costumes.
She worked really hard trying to fit in as much as she could. But even with my suggestions, she couldn't get everything in!
The best part of the box is the top compartment, that can fit a bunch of my jewelry and accessories. And maybe a hat.
Well, there's not much hat room, unfortunately.
I hope I don't have to wear this sombrero until my human goes back to Michael's and picks me up a hat box!
* * *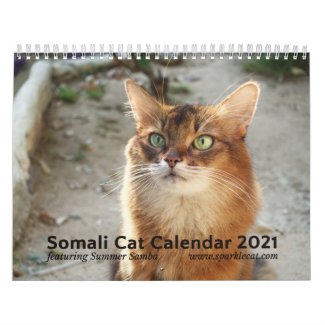 2021 Somali Cat Wall Calendar, Starring Summer
See all of Summer's merch at her
her Zazzle Designercat Shop