Remember about a month and a half ago Sparkle complained about some wall construction? Well, when I moved in here, I just sort of assumed it was always going to be noisy here, with a bunch of worker humans wandering around outside most days. I wondered why the scratch loungers were placed by these doors, when all you could see was dirt and big sheets of plywood stacked up. Well, eventually it quieted down.
Then eventually, the dirt and boards got taken away from the back and I found out there was a whole patio area out there! With squirrels and birds! And morning sun puddles too. I was really amazed.
My human took me around the side of the house so I could see the new wall. Obviously, it's not quite done yet but you get the idea. the kitchen and my human's boyfriend's office and music room are on the right of this photo. My human latched me into my I-GO2 carrier so that I was more secure. We have coyotes (there was a big one hunting prey a few houses down the other day), and she did not want to take any risks with me getting out of my harness! Maybe she is being over protective, but honestly, I would rather not be eaten by a coyote either.
There used to be steps going up to the left of me, and eventually there will be steps there again. Past the little bridge on the right, and up a little ways more is my human's office. The living room, where you see most of my photo shoots, is also on that level.
Now that you've had a tour of the new wall, I can go back inside and look cute.
* * *
---
---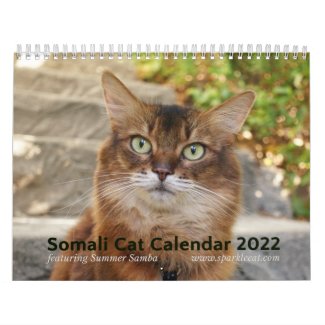 2022 Somali Cat Calendar Starring Summer Samba
See all of Summer's merch at her
her Zazzle Designercat Shop