Today is one of my favorite holidays — National Fried Chicken Day! And we are celebrating this year with a box of KFC. Yum!
There is one problem here — my human also got a biscuit and insisted on eating it first! Can you imagine? I had to wait while she finished.
Finally she opened the box of chicken! There are two thighs here — enough for me, Boodie (who was waiting under the table), and my human.
Seriously, this is one of the best days of the year!
What do you mean there isn't any more? You should never run out on National Fried Chicken Day!
* * *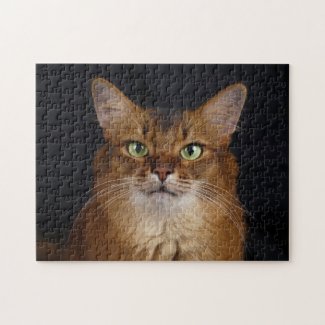 Somali Cat Photo Portrait Jigsaw Puzzle
See all of Summer's merch at her
her Zazzle Designercat Shop