You know I couldn't come all the way to Canada without visiting a couple of pet stores! The first one we went to was a PetSmart, because my human needed to buy something specific there. I wore my prettiest sweater!
To be honest, it looked a whole lot like the PetSmart that is near me at home.
I was not supposed to be in the dog food aisle, but I had to look. Also, while my human and I shopped, one of the employees saw me and called me "Princess."
It was colder the next day, so my human put a longer sweater on me for my next trip. We went to a small pet shop in the Hastings-Sunrise neighborhood of Vancouver that was very special.
It was called Long Live Cats and Dogs. They carry healthy food that often can't be found at big chain stores, and items made by local humans. Also, they are huge supporters of pet rescue. They work with a nonprofit group called Neüterhead: Ace of Spays, which uses rock 'n' roll to raise funds to help rescue groups spay and neuter pets. Now you know why my human wanted us to go there!
There was some interesting decor in the shop.
And I saw something I had never seen before at a pet shop!
A shop cat! There are two of them there — the other one was napping, but this one was really surprised to see me! I don't think this kitty had ever seen another cat in the shop before, and certainly not one wearing a sweater.
My human wound up buying a couple things there. One was this pretty t-shirt made by one of the locals. My human solved the problem of showing both my face and the back detail by having me pose by the bathroom mirror. This t-shirt will be nice to wear when the weather warms up.
The other thing she got was this really yummy bag of freeze-dried treats, made with real Canadian lamb! So far, this is all the shopping my human has done here.
* * *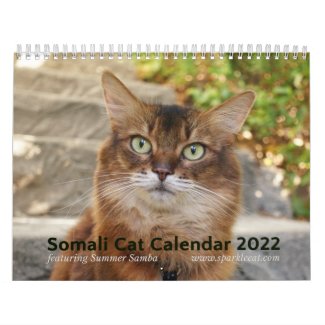 2022 Somali Cat Calendar Starring Summer Samba
See all of Summer's merch at her
her Zazzle Designercat Shop