Today I was back visiting children at the hospital. The other therapy pet, Lacy, wasn't a cat friendly dog, so we mostly had to be in different parts of the wings. That was fine, we still got to see lots of patients, and even saw a couple of the same ones, only at different times.
There were a lot of kids in the Pediatrics wing, but several of them had isolation cards. We couldn't visit them, but we were kept busy with the others. The boys I visited loved cats and were really happy to see me. One of them was sitting in a chair, and it was hard for me to settle in because he was small and skinny. Plus, I'm not normally a lap cat, but I really tried to be one for him. Another boy was sitting up in bed. He was happy to pet me and took photos of me with his phone. I was a little restless and my human explained that I tended to be more focused when the patient was sicker or in pain. "I really could have used her yesterday!" he said.
This is the hospital with the Rainbow Room, the waiting room for developmentally disabled kids who have therapy appointments. You never know what you will be getting there. Sometimes there are hardly any kids, and sometimes, like today, there are a bunch. Some of the kids are friendly, some of them are scared. Like today, there was one boy who was so fearful, he sat crouched in his chair, with his feet on the seat, like he was going to climb over the back if either me or Lacy got too close! When my human and I walked by him, he cringed.
I sat on one side of the room, and Lacy held court on the other. I shared a chair with one little girl who loved petting me. Her mother asked my human a lot of questions about therapy cats. She was really interested in cats being in the program, and thought it was great! Meanwhile, this little boy who I'd met a few minutes earlier, kept coming up to me. He would crawl on the chair, touching me and smiling. The girl was a little annoyed, but what can you do? My human couldn't tell him to go away!
My human was teaching the little girl how to trade High Fives with me when something special happened. A nurse brought over the scared boy and invited him to touch me. He was scared and shaking, but at the same time, he really wanted to pet me. Finally the nurse helped him by having him put his hand on her arm so they could pet me together. You should have seen the boy's face when he was able to do that! It was a very big deal for him. And for his parents too — his dad gave him a high five, and there were huge smiles all around. When he went to sit back in his chair, he sat normally, without his feet on the seat. A few minutes later, he repeated the same thing with Lacy too. I just want to say, it is really awesome when you can be part of something like that.
I loved visiting the kids today.
* * *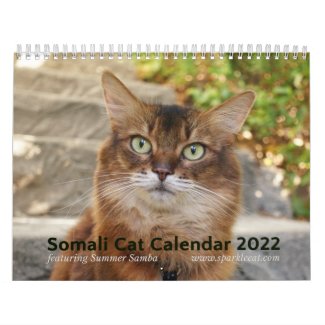 2022 Somali Cat Calendar Starring Summer Samba
See all of Summer's merch at her
her Zazzle Designercat Shop