I got to visit a new (to me) facility today. It's an assisted living for seniors with Alzheimers and dementia. It took my human a while to find an open slot to sign up for a visit — since they only have one therapy team at a time, they fill up fast. It was a very different experience from what I'm used to.
There were two buildings, and they were in a residential area. The employee in charge of the therapy pet program met us in the lobby and brought us back to a big room. It was kind of like a living room with couches and a TV, and full of elderly people. Some of them were sitting on the couches, and some were in wheelchairs. Lots of them were happy to see me and petted me, but others were either asleep or not really aware of what was going on.
I was a little confused and unsure of myself because the room was noisy with the TV turned up, and I didn't know who to approach or what to do. My human helped me lots by giving me treats and leading me to people. She also had me sit and do tricks, because that always grounds me. Other than the staff, the youngest person there was a man who was visiting his mother. I got to visit with the mother a little bit.
The employee said that not everyone wanted to be in the big room, and that some of them preferred to stay in their own living quarters. She thought one woman in particular might benefit from my visit. So we went to her room, and she did want to see me. We came in and I had a lovely time with her! I got to show her my tricks and jump on the bed and make happy paws. I purred lots for her. She talked about the cats she used to have at her house. She seemed to think that they were still at the house. I don't know if that was true or not, but she liked to remember them.
The next building we went to housed people whose dementia was milder. It was the same sort of thing — we went to a big living room area with a lot of people and I visited with whoever wanted to see me. One lady talked about the boxers and Saint Bernard she used to have. In fact, she told us about them twice. A lot of the people were like that — they would tell you a story, and then tell it over again. I got petted a lot by one lady in particular, and there were a couple of men whose faces really lit up when they saw me.
The employee thought I did really well, and she liked that I walked on my leash much of the time. The hard part for me was visiting the people in wheelchairs. I'm not really a lap cat. I like to sit next to people, not on them, so my human had to hold me for them to pet. I had a much easier time visiting people who were on the couch. I'll get it figured out eventually, though. My human already scheduled another visit for me, right after Thanksgiving. That was the soonest time slot they had!
* * *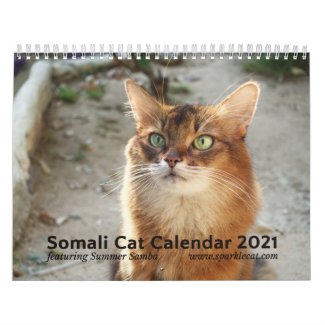 2021 Somali Cat Wall Calendar, Starring Summer
See all of Summer's merch at her
her Zazzle Designercat Shop