I thought it was time to look in on my catnip garden and see how it was doing. Since it was a little cooler this week, but not cool enough for a sweater or jacket, I wore my cute neck piece with the cherries that my friend's human made for me.
As you can see, it's doing quite well! It hasn't spread yet, but I know it will.
You might recall, there was almost nothing left when my human cut it back just two short months ago. But now it's green and strong. It's only a matter of time before it starts making buds.
But that's not all! The new plant is doing really well too. I'll show you!
See? It's happy and growing well! I think it's important to get your paws a little dirty when you have something cool in the garden to show off.
Since the growth is still pretty new, my human didn't snip any off for me. But I think she deserves a high five for not killing it either!
Other posts you'll enjoy:
* * *
---
---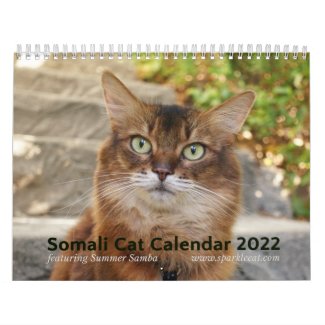 2022 Somali Cat Calendar Starring Summer Samba
See all of Summer's merch at her
her Zazzle Designercat Shop