When my human scheduled our visit to this residential facility, which houses kids who can't live at home — either because of trauma or emotional or behavioral challenges — she didn't realize it was on Mothers Day. She only figured it out the week beforehand. It was actually a good day to visit. If the kids were at the facility on Mothers Day, it meant they might not be able to visit with their mothers. Technically, they might not be motherless, but it was probably lonely for them in ways they might not even understand.
The only difficult part about visiting on Mothers Day was that it was hard finding staff to let us onto the grounds. Nobody was in the office, but a counselor finally let us and the other team in. The other team included a big dog named Apollo. He was more interested in playing with his orange ball than me, so that was good.
I had been to this facility once before months ago, and my human and I figured that it would be all different kids. But there was one young girl who recognized us right away! She was very excited to see me… probably a little over-excited. There were nearly all girls this time, and most of them wanted to spend time with me. There was one girl, a young teen, who I liked especially. I kept squinting my eyes at her. She wanted an actual kiss, and my human tried to show her how to get her head close enough to me so I could nuzzle her hair (the way I do with my human). But she never quite got it.
Another girl liked me so much, she wanted my human to give me to her after my human died! (Maybe my human seemed old to her, since she is probably older than the girl's parents.) She even had a new name for me. I don't remember it — it was Rainbow-something. The girl will have to be disappointed, because if anything ever happens to my human, her boyfriend has already said he wants to keep me.
The kids were nice, but a bit rowdy, and a couple of them kept wanting to pick me up, which is not my favorite thing. I was good the first few times, especially since my human gave me treats for staying. But I got tired of it after that and just wanted to sit in the Sleepypod bed and be petted, and do High Fives. They liked the High Fives, and I pawed them out quite a few times. I did not want to dab, which one of the girls wanted to teach me! I don't even think kitty anatomy will do that.
So the kids were loud, a little bit out of control, and my human was relieved when the hour-long visit was over. She was exhausted! She came home breathless, but I behaved like it was just another day. You would never know I'd even been on a therapy cat visit. I'm glad I'm better at taking things in stride.
* * *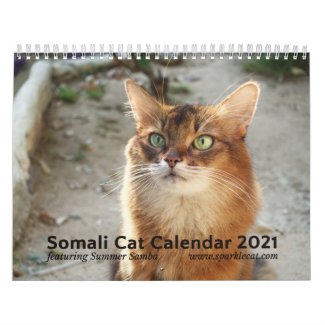 2021 Somali Cat Wall Calendar, Starring Summer
See all of Summer's merch at her
her Zazzle Designercat Shop