My human and I drove in to Las Vegas on Thursday afternoon for the Jazzy Cats club's three-day TICA show at the Riviera Hotel. It was a long weekend, and we were gambling that I would get some finals!
This is where I was from 4 P.M. to 11 P.M. on Friday, 10 A.M. to nearly 6 P.M. on Saturday and 9 A.M. to around 4 P.M. on Sunday! There were 18 judging rings over the three days, so I had a lot of work to do! Plus I had visitors on Friday (the Katnip Lounge human and Quill and Greyson's human), and some nice Facebook friends stopped by on Saturday.
The show had a Halloween theme, so all the rings had Halloween decorations, as did the announcer's booth, which you see above.
Some of the decorations were kind of creepy!
My breeder was showing her 7-month-old Aby kitten, so she and my human got exhibitor spaces next to each other, and there was enough room to set up a nice-sized grooming area! See those two ribbons? CG (the Aby girl) and I got them when we came in. When — and if — we got any final placements, we'd get a small badge to stick on them. I was crossing my paws a lot for badges! This was a very big show with many different breeds, and the competition was fierce! Although I was the only Somali kitten, I was one of about 60 kittens competing, and we Somalis aren't as popular as some of the other breeds.
Here are me and CG right next to each other in a judging ring, which almost never happens! But as Number 30, I was the last kitten in the longhaired group, and as 51, CG was the first kitten in the shorthaired group (breeds go in alphabetical order). So this ring was finishing up longhaired kittens and then judging shorthaired kittens right after. CG and I actually lived together briefly, but we never met. She had just come from Russia and lived in a different part of the house from the rest of us, to make sure she was kitty germ-free. And even though we were near each other in our benching cages and occasionally in the judging ring, I only caught brief looks at her. There are lots of cats at shows, and you have to be careful because you don't want one cat to take a dislike to another cat. That causes all sorts of unpleasantry!
Like most cat shows, there were rescue cats available for adoption, and many of them were showing in the household pets category. This guy had a lot of charisma!
So did this guy. He was huge! He must have been around 25 lbs… and he wasn't fat! I don't know why my human keeps photographing gray cats. There were lots of other colors there too. Some kitties got adopted, which was great, because even though this is a big cat show, it doesn't get a lot of local people coming by because of its location at the Riviera. It was fun to hear the announcer say that a cat couldn't finish his household pet rings because he was adopted.
Another cool thing this show had was a Junior Exhibitor Ring during lunch on Sunday. That's when young TICA humans who love cats and cat breeds learn what it's like being judges. The two my human saw were both stewards this weekend — the stewards are responsible for keeping the cages in the judging rings clean. I really liked this little boy a lot. He was nice and friendly when he was cleaning the cage next to mine, and he was clearly happy to be there.
This teen knew his stuff! The judge who was in charge at the Junior Exhibitor Ring tested him on his knowledge of cat shows and he did really well. If you want to know more about TICA's Junior Exhibitor program, you can read about it at this link.
Like last time, I practiced my facial expressions. This one was meant to be a sly wink, but I don't think it worked out.
Although you aren't really supposed to call out to the judges while you're in the ring, some kitties do. It's very important to remember that the judge's name is never, "Hey, you!" That is rude.
A nice, pleasing look with a slight smile works best!
It must have done the trick because I placed in the "Solo Ring." The Solo Rings are part of the training to become a judge. This nice judge-in-training gave me 7th Best Kitten (CG placed first!).
When you place in a Solo Ring, it doesn't count as points, but you do get a special ribbon! You aren't supposed to eat it, though. At least that is what I was told.
So you are probably wondering how I did in all the real rings, right? Well, since I was the only Somali kitten in competition, I was the Best Somali Kitten every time! That meant I qualified for consideration in all the finals, but like I said, competition was tough and I only got four finals. They were all specialty rings, which means I was only judged against the other longhaired kittens, not the shorthaired and longhaired kittens combined (that's the Allbreed rings). I got a 7th Best and 10th Best longhaired kitten… and two Best Specialty Kitten titles! That meant I won over all the other longhaired kittens in those judge's rings! This was the first time I came in first place… and it happened twice here! My human and I were very excited!
You are not supposed to eat these ribbons either.
This was really an exhausting weekend! I am coming home today, so maybe when I catch my breath, I'll tell you all about the drive, and let you know some hotel room rules!
* * *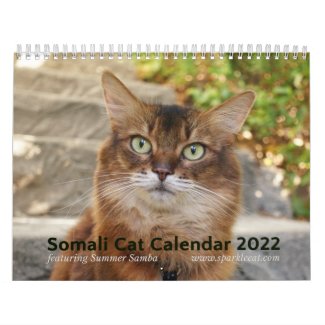 2022 Somali Cat Calendar Starring Summer Samba
See all of Summer's merch at her
her Zazzle Designercat Shop