I hinted that I was going somewhere yesterday, and now you know! I'm headed to Las Vegas for a one-day cat show. Technically, it's in Henderson, at the Henderson Multigenerational Center, but basically… it's Vegas. This is a really short trip — we are just going in, working the show and coming back right away. Why? My human just saw no reason to spend any more time there than we needed. Anyhow, here is my wardrobe. As you can see, I have a pink theme going on!
Mostly I just wanted to keep it simple. A lot of times I don't even wear most of the outfits I bring. People enjoy touching my soft fur even more than seeing me dressed up. So I will probably spend most of the show wearing accessories.
I'm also bringing my sunglasses because… Vegas.
And I am also bringing my bell! I bet I will have lots of fun at the show. If you are in the area, please stop by and say hello!
* * *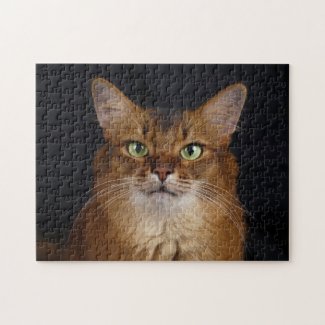 Somali Cat Photo Portrait Jigsaw Puzzle
See all of Summer's merch at her
her Zazzle Designercat Shop