Soooo… after the past two photo sessions didn't work out perfectly, I decided to give the Valentine's Day bag one more try. Or rather, my human decided, and bribed me with treats to join in.
Can you tell my enthusiasm had started to wane?
This Valentine's Day gift bag is starting to look a little worse for wear!
As you can see, I still haven't figured out a way to get just my head and shoulders sticking up. Maybe my human should have just gotten me a different sized bag! That would have avoided the problem in the first place.
I've had enough of this Valentine's Day photo shoot!
Better luck next Valentine's Day!
* * *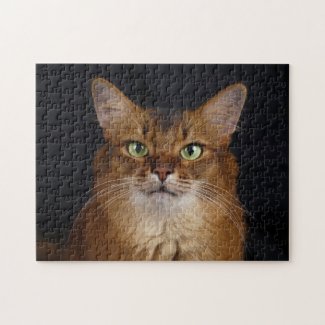 Somali Cat Photo Portrait Jigsaw Puzzle
See all of Summer's merch at her
her Zazzle Designercat Shop