When it comes to posing for the camera, I'm a pro. Usually. But I do have my unprofessional moments. Like when my human was trying to get me to pose with the sweater I wore yesterday, before I put it on.
This was my response.
Well, what was she expecting? I wanted to clean up. Actually, I kind of needed a clean up… and I wound up getting a bath the next day!
And I wasn't done with my unprofessional behavior. Towards the end of the photo session, I decided I wanted a tummy rub instead of posing. Even though we weren't done yet. Spoiler alert: the photos got done and I got my tummy rub.
* * *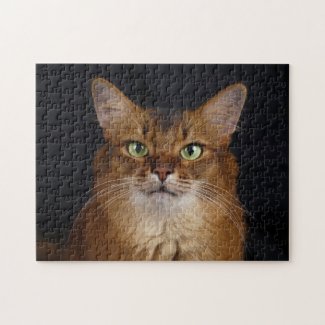 Somali Cat Photo Portrait Jigsaw Puzzle
See all of Summer's merch at her
her Zazzle Designercat Shop