I got a package from Finland! It's the prize I won for guessing correctly what the toy was in this blog post. My human is still amazed that I guessed! And you know what? I could smell it right through the envelope!
Along with my prize was a very nice card, but by the time my human opened up the envelope, I was more interested in the toy, and her nose finally got a whiff of why I was excited.
"Phew! Valerian root!" she grimaced. "Whoa! Valerian root!" I said. I've never had it before. Sure, there is a Plague Ratsie around somewhere, but it's old and the valerian scent is really faint. Apparently humans think valerian root is stinky, but I think it is heavenly!
I couldn't wait to start attacking my new toy!
I also want to report that valerian root is rather tasty.
Binga is not a huge valerian root fan. She is more of a niphead, but she still wanted to give my new toy a whap or two.
Then Boodie commandeered it. It was only supposed to be for a moment or two. It's a good thing I did not believe that.
She was in the throes of a valerian root-induced ecstasy.
Finally she passed out. I would have taken back my toy, except it was, ew, drooled on! My human had to put it somewhere to air out. But I do want to thank my Punapippuri pals and their human — and the highly crafty Katnip Lounge human — for this fun gift!
* * *
---
---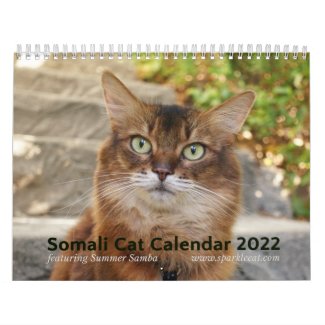 2022 Somali Cat Calendar Starring Summer Samba
See all of Summer's merch at her
her Zazzle Designercat Shop