Guess who had to go to the vet?
And guess who had to come along?
I'm so furious that I got hauled over there. I'm not even sick! Binga was throwing up a lot, which is unusual for her, so the humans brought her in to be looked at. But before I could even make fun of her in her cat carrier, I was stuck in one too! My human said that I "pitch a fit" whenever one of the other cats comes back from the vet, so she thought that if I came along, maybe I would smell like the vet too and not get mad. Well, I was mad that I had to be at the clinic for no reason!
It took them forever to poke, prod and x-ray Binga, but there didn't seem to be anything wrong except maybe a "bug." I don't know why that would make her throw up. I eat bugs all the time and I never throw them up — just hairballs usually. While the humans were waiting for Binga to be x-rayed, they kept staring at this poster about food that pets should never eat. It made them hungry. When we all finally got home, they ordered a veggie pizza. We didn't get any of it.
So did my human's plan work? I don't know. I picked fights with both Binga and Boodie for about a day, but then I got over it. I really hope my human does not make a habit of this — either that, or that the other cats don't need to go back to the vet any time soon!
* * *
---
---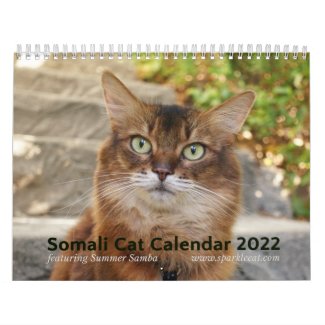 2022 Somali Cat Calendar Starring Summer Samba
See all of Summer's merch at her
her Zazzle Designercat Shop