Our sunshine returned, so my human and I got back to taking photos in the turret! While we were at it, I thought it would be a good time to take some selfies too.
Now, if I can just get my human to hand over the iPhone…
Now if I can just get it set up right! That's the hardest part.
Oops! The iPhone slipped. It's a good thing it didn't fall down the stairs. Although they're carpeted stairs, so it probably wouldn't have gotten hurt too badly.
Yay, I got it! I love it when I am able to take a selfie without too much trouble.
* * *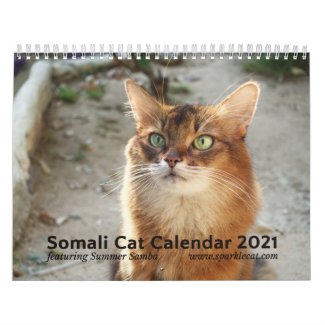 2021 Somali Cat Wall Calendar, Starring Summer
See all of Summer's merch at her
her Zazzle Designercat Shop