See this face? This is my turkey face! That means my human brought home leftover turkey when she returned from Thanksgiving dinner and I want some!
So do you think this was a good time to do my weekly selfie? I didn't think so either! But I tried anyway.
Oops, I dropped the iPhone. My paws are a little greasy.
This is my impatient turkey face, in case you haven't guessed.
Good, she came through with some! Well, I guess these selfies didn't turn out very well, but that's what happens when there is turkey around.
Don't worry, Binga got turkey too! And so did Boodie! And they didn't even have to pose for selfies. So we are all happy.
* * *
---
---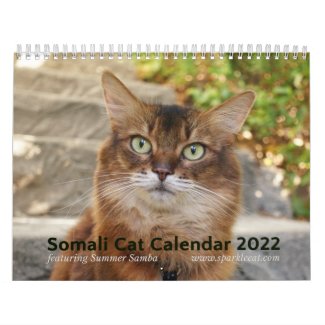 2022 Somali Cat Calendar Starring Summer Samba
See all of Summer's merch at her
her Zazzle Designercat Shop