Here I am, back at the airport, waiting to go home after the three-day Tucson cat show! As you can see, I'm a little tired. My human was too — she needed an energy drink to keep going!
Can you believe that Pokemon Go has even infiltrated cat shows? If you had the app, you got a dollar off the entrance fee.
I was in rings all three days.
A vendor there was selling the biggest sparkle balls ever, so my human got one for me.
The important thing for me, though, wasn't really the show. It was the TICA Southwest Regional awards banquet my human attended Saturday night! I bet you want to know how I and my half brother Chilly did!
I had a lot of pals who won awards too, like my Savannah Instagram friend, Zombie. He was Ninth Best Alter in the region.
The picture's really small, but that's my half brother Chilly! He was Seventeenth Best Kitten and Best Somali Kitten in the region, and Eighth Best Cat, Fourth Best Longhaired Cat, and Best Somali in the region!
And then there was me!
I got Fifth Best Alter in TICA's Southwest region, and I got Best Regional Somali Alter too! Isn't that cool? I am also Second Best Somali Alter Internationally. I got beat out by a European cat for Best International Somali Alter in TICA for last season.
While I was hanging out at the airport, a lot of humans came by to take a look at me and ask my humans questions about me! One human had a camera (a real one, not a cheap one or a phone) and she took a bunch of photos of me… and they are amazing! I will have to share them with you sometime this week.
I bet you are wondering what went on with my young half brothers. I am devoting a whole blog post to them tomorrow!
* * *
---
---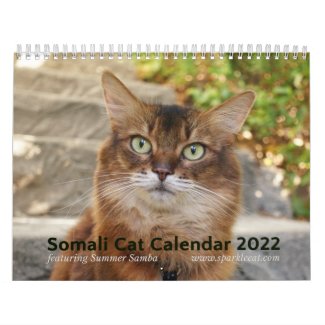 2022 Somali Cat Calendar Starring Summer Samba
See all of Summer's merch at her
her Zazzle Designercat Shop