Last weekend, my human went off with a friend to an art show, and they had vendors with cat items there. My human's pals from Pussy and Pooch had a table, so she wound up buying the catnip sticks you see above. They're called Meowijuana, and they are really, really potent. In fact, I don't call them catnip sticks. I call them trouble sticks.
I got really excited when my human opened up the package. It took a while for her to get this photo of us because we both were going crazy, and getting more impatient by the second. In fact, the first photo session was a fail because I ripped open my stick so quickly that my human couldn't get a picture!
After ripping open the trouble stick, I started licking Binga. That's the kind of kitty I am when I'm stoned.
And this is the kind of kitty Binga is when she's stoned!
Then she took over all the catnip for herself.
Since there were still more Meowijuana sticks left over, my human decided to try for better photos on another day.
So once again, she brought out the trouble sticks. She kept working on getting a good, in-focus shot. She was taking forever, so finally I took matters into my own paws.
Or should I say jaws?
Without caring if my human "got the shot" or not, I tore into that thing.
It was amazing.
The only problem was that when I tore open the stick, it spilled all over my human's clothes! Fortunately, she brushed it all off onto the rug so we could continue to enjoy it.
It pretty much ended the way it did before.
That is really some catnip!
* * *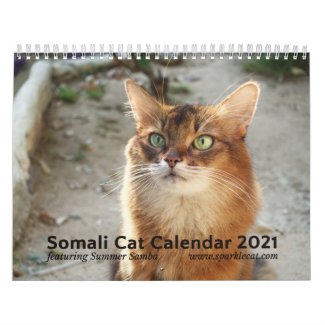 2021 Somali Cat Wall Calendar, Starring Summer
See all of Summer's merch at her
her Zazzle Designercat Shop