We were out of nearly all the good food, and Binga was starting to complain. So my human knew she had to take a trip to the pet store — and she brought me along!
I got to walk around a bit on my leash, but I also rode in the shopping cart. I enjoy doing both! My human says she gets more done when I'm in the cart. Either way, lots of people visited with me. This trip I got to see a little boy, a couple of men who were shopping together, and a cat rescue lady.
I tried to make helpful shopping suggestions, like getting one of these awesome big beds, but my human didn't pay any attention.
Finally I stopped with the suggestions and just kicked back until checkout. Do you know, the checkout girl didn't know what it meant when I did the elevator butt? That should have been on the test she took to get the job! (They do have to take tests to work there, don't they?)
You may have noticed in a few photos that I got a new dress while we were shopping! I'm very excited about it. A few weeks ago, my human and I saw one but it was the wrong size, and we haven't seen it since. Finally, the store got them in stock, and they had my size. Now I have something to wear for Cat World Domination Day! I was worried I was going to have to wear a repeat.
* * *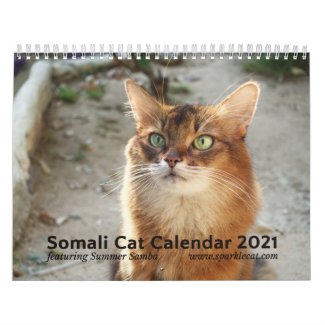 2021 Somali Cat Wall Calendar, Starring Summer
See all of Summer's merch at her
her Zazzle Designercat Shop