My human and I headed out of Houston Monday morning. She wanted to have time to get a few things done when she got home. I wanted to catch up on my naps. I just want to say, the chairs at the Hobby Airport are really uncomfortable if you are a kitty. They are slick, and I kept sliding around.
I did sit by the window to watch the airport workers for a while. That was more comfortable.
The flight itself was uneventful. My human used to hate listening to screaming children on planes… but she doesn't mind it so much now because I'm way quieter! And she likes that I am so much more well behaved. We landed at Los Angeles International Airport, which is really a terrible airport, and far from our house. But we had a treat — my human's boyfriend offered to pick us up! They have an unspoken rule that they never ask for rides to and from LAX, but my human had two checked bags, a laptop bag, and me, and he kind of felt sorry for her.
I left you hanging yesterday about whether I won anything at the Cat Writers awards banquet. And actually, I did win one Muse Medallion. The competition was tough this year, and there were lots of worthy finalists. My human and I are thrilled for everyone who won Muses and Special Awards, including the categories we entered. All the wins were well deserved!
The Muse I won was for a photograph of me! And it just happened that my human had a card at home with that picture. If you've followed my blog for at least a year, you will probably remember it… it is hard to forget.
See what I mean? You can get this card on Zazzle if you want to wish someone a happy summer!
I'm proud of my win! But I am also tired after this long weekend and want to relax.
* * *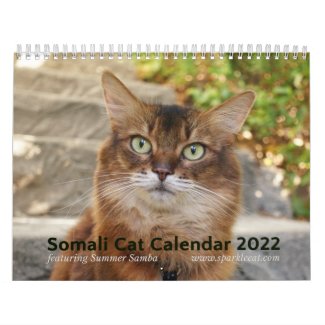 2022 Somali Cat Calendar Starring Summer Samba
See all of Summer's merch at her
her Zazzle Designercat Shop