I have my own tiny Christmas tree! My human actually got it for me in January, and it has been sitting in a bag in my photo studio since then. Finally it was time to pull it out and trim it!
I think the ornaments (which came with the tree) are kind of plain. But my human said she saw some tiny ornaments at CVS, and may get them for me.
They are bright and shiny, but that is about it.
I would have helped put the ornaments on the tree, but it's hard when you don't have thumbs.
And let's not forget the star to put on the top!
Here it is! Except it is still missing something. Can you guess what it is?
That's right — the presents! I hope I get to put real ones under it soon.
Note: We are Amazon affiliates and occasionally link to products on their site. If you click through and make a purchase, we get a small commission. Thank you for your support!
Other posts you'll enjoy:
* * *
---
---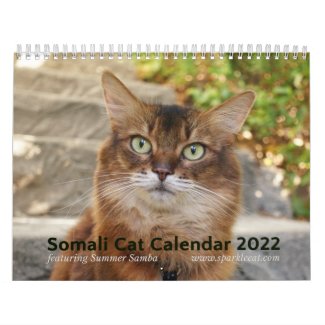 2022 Somali Cat Calendar Starring Summer Samba
See all of Summer's merch at her
her Zazzle Designercat Shop