I love my trick practice, and I don't get it often enough lately. But there are times when I feel like goofing off too! This session was one of them.
My human wanted me to do some bell ringing, but I wasn't sure I was in the mood.
I was just feeling sassy, what can I say?
Finally I relented and did some bell ringing. And got the treats I'd been wanting the whole time.
I also practiced my bye-bye waves, but my human said they needed work. She is such a critic! So I guess that means we get to practice more often.
Other posts you'll enjoy:
* * *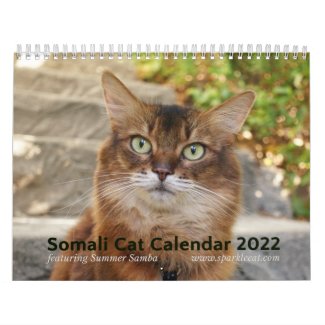 2022 Somali Cat Calendar Starring Summer Samba
See all of Summer's merch at her
her Zazzle Designercat Shop