Look what came in the mail — a box from the Feline Greenies humans! They make some of my favorite treats!
And now they have some new treats! They are called Smartbites and they are "health-specific" formulas like Hairball Control, Digestive Care and Healthy Skin & Fur. Of course, you know that is not the part I care about. I am more interested in the words "Tuna," "Chicken" and "Salmon" on the package. And the fact that they are crunchy on the outside and soft and yummy inside.
Even better, check this out — it says here we can eat 12 of them all at once!
Oh, great. Here comes trouble. And she is already begging and my human hasn't even opened a package yet for me to taste.
Fortunately, my human got rid of her… actually by tossing one of the treats all the way to the stairwell. While she is off looking for it, I can taste these in peace. Yum! Can I have these for breakfast?
If you want your own Feline Greenies Smartbites, you can find them on Amazon!
Links to Amazon are Associate links — hey, a kitty's gotta eat!
* * *
---
---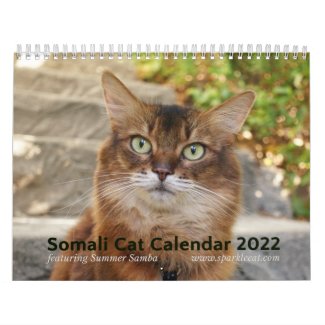 2022 Somali Cat Calendar Starring Summer Samba
See all of Summer's merch at her
her Zazzle Designercat Shop