I had a fun travel day to Roseville yesterday! It started off at Hollywood Burbank Airport. The lady at the airport pet concession stand took a photo of me for their video display — it shows the pets who stop by on their travels. I don't think she gets a lot of cats.
My human and I waited at the gate for the plane, and I had lots of admirers. She shot a video for my Instagram feed, and posted a version of this photo. I just want to say that the official Hollywood Burbank Airport Instagram commented on the photo! I also want to mention I have more followers than they do.
The flight was uneventful, except that as we got closer to Sacramento International Airport, the air got smokier. As you may have heard, there is a very big fire raging in northern California. Even though it's not that close to where we were headed, the smoke was still thick and visible even before we began our descent. It's going to be a hot, smoky weekend.
My human picked up the rental car at the airport, and we headed for the show hall at the Placer County Fairgrounds. Sometimes shows let you set up the day before, and my human likes to take advantage of that. I just want to say, I have no idea what she did before Waze and Apple maps, because even with their help, she turned the wrong way a bunch of times! I was wondering if we would ever get there. Finally, we wound up behind a long line of cars that was not moving at all… it turned out to be parents picking up their kids from school, and she had to turn around again. Which was probably a good thing because the show hall was a half block behind us.
Anyhow, we got there and set up, and I was glad to get out of the carrier and wander a bit on my leash.
Here's a view of the still mostly empty show hall from my benching area. The entrance is to the right of where I'm benched. They put me right near the front, since I'm the Pet Me Cat. It didn't take long for my human to get our basic set up done. Fortunately, she did not get lost on her way to the hotel.
I think I'm going to have a fun show today! What do you think?
* * *
---
---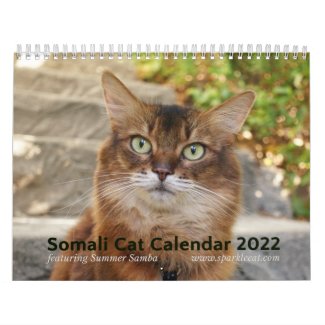 2022 Somali Cat Calendar Starring Summer Samba
See all of Summer's merch at her
her Zazzle Designercat Shop