My human and I were practicing my bell ringing yesterday. I hadn't done a selfie yet (trying to get one for my National Fried Chicken Day shoot was pretty much impossible!), so this seemed to be a good time.
I just needed to borrow the iPhone for a moment.
Oops! I really messed that one up. I guess I'd better try again!
I got it this time! Yes, I know there's a glare in the back, but no more redos here.
* * *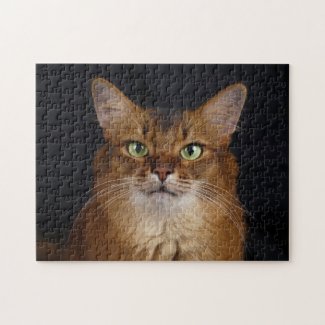 Somali Cat Photo Portrait Jigsaw Puzzle
See all of Summer's merch at her
her Zazzle Designercat Shop