I visited the children's hospital this week. Before I even got to the lobby, one of the staff members saw me and got really excited! He said he had cats at home to help with his Aspergers, and that he's had cats all his life. He was delighted to see me at the hospital being of service. And of course I was delighted to be there.
I met my first actual patient before I visited the lobby too. It was a little girl, whose father was signing her in. She loved petting me so much that she also had her dad touch my soft fur. Once I got to the lobby, I visited with a little boy who had one limp hand… and one graspy hand! I didn't mind, though, and sat so that my human could take a photo of me next to him. A girl in a wheelchair was sitting nearby and she was scared of me (I know, I know, but some people and kids are!). So we walked around them to get to another little girl with two limp hands. She was still able to touch me, with the help of her mother.
I want to mention that this hospital treats many young patients with limbs that don't work right. One of the reasons I really enjoy being here is because touching me is actually helpful to some of the children whose hands and arms need practice. And I love being petted in any way that works for them. Not every kitty likes it when strangers get touchy-feely, but I do.
I also visited some exam rooms. There was a little girl in a wheelchair in one. The mother wanted to take a photo of me sitting by the girl, and had to move the bag with her leg braces out of the way. Another patient was an older boy who was getting a new cast on his arm. Lots of staff in the hallways visited with me too, and that was fun.
In the Pre-Op area, I visited the nurses, and one boy who was getting ready for his procedure. He asked a lot of questions about me, and my therapy cat work. Back down in the lobby, I saw some more kids. One was a very young girl in her mother's arms, who was excited and pretty grabby. My human is experienced at touching me at the same time as grabby youngsters so she can a) feel how tightly they are grabbing, and b) use her fingers to subtly loosen tight grips so I'm comfortable. This way, I can enjoy the visit as much as the child is!
These children's hospital visits keep me pretty busy! After I came home, my human rewarded me with some playtime. Sometimes therapy pet visits can exhaust the animal therapist, but more often than not, I'm energized… and sometimes my human is the one who is exhausted!
* * *
---
---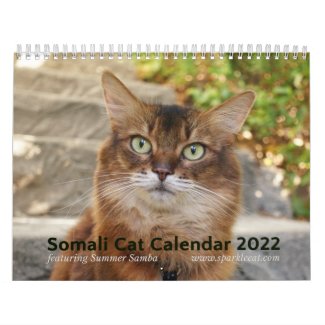 2022 Somali Cat Calendar Starring Summer Samba
See all of Summer's merch at her
her Zazzle Designercat Shop