Binga needed a quick trip to the vet and my human had too much going on to pack me up and take me along too like the last time.
So Binga had to be checked out without me. My human was worried that I was going to go ballistic when she came home. But who can blame me? There's nothing ickier than that "old vet smell." It always takes days for me to calm down when Boodie comes home from the vet, and my human knew Binga was not going to take my behavior lying down.
Suffice it to say that I have no idea why Binga went to the vet, but I don't think she was very sick.
* * *
---
---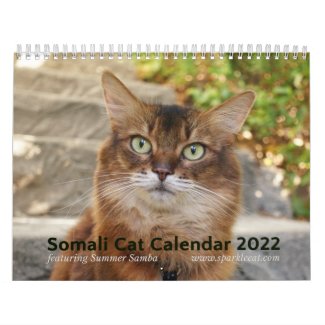 2022 Somali Cat Calendar Starring Summer Samba
See all of Summer's merch at her
her Zazzle Designercat Shop