This post is my entry into the BlogPaws Blog Carnival Contest sponsored by BISSELL Homecare, Inc.
Bissell is having a BlogPaws Carnival about pet adoption to help raise money for the Petfinder.com Foundation, so I thought this would be a good opportunity to tell you a little bit about where Binga came from. She should consider herself lucky because that means she is being featured here twice this week!
The humans never intended to bring Binga home from the kill shelter where she was locked up in late October, 2000. My human actually had a black kitty on hold to pick up after Halloween. But when she saw a two-month-old tortie kitten screaming to be released from her cage, grabbing at everyone with her paws and licking any random fingers that reached for her, she was determined to save her. So she and her boyfriend came by to sign the papers that Saturday. As soon as the kitten was spayed, my human fetched her to drive her to the veterinary clinic where her boyfriend worked. They knew that one of the clinic's clients, or maybe even an employee, would want her.
Like most newly spayed kittens, the tortie was oblivious to her recent operation. On the drive to the clinic, the cardboard cat carrier shook as if it was possessed and the kitten screamed to be let free. Finally my human parked the car and allowed her to explore for a few minutes. The little thing was so tiny she was able to crawl onto the car dashboard ledge, near the speedometer. While my human watched the kitten enjoying herself, she realized that she had rescued her purely because she wanted to save her life. She had done it without attachment or any desire to adopt. She says that for someone like her, who by choice has never had children, it is probably the closest thing to unconditional love that she has ever felt.
It turned out someone else also wanted that black kitty, and in fact wanted him so badly that she was at the shelter's door when it opened the day after Halloween, beating out my human by less than 10 minutes. "I have never seen that happen before!" said one of the shelter's workers. My human left empty-handed and called her boyfriend. "You can bring that kitten home," she said.
My human named her Binga because she had so much energy she bounced off the walls — bing-bang-bing! She played so hard and so frantically that she would wind up panting with exhaustion. For quite a long time, her favorite morning game was attacking the sleeping faces of my human and her boyfriend. With her claws. Not everyone thinks tortoiseshells are pretty cats. One friend of my human's visited and said that Binga looked like "a tore-up kitty." Binga bit him.
Did I mention that my human already had a cat when Binga came home? The cat before me had been diagnosed with the bone cancer that would kill her, but at this point, she was still relatively healthy — and she did not appreciate the new addition to the family. Harlot was a calico. A calico diva and a scrappy tortie from the streets living together — that was an adventure! One time my human was playing with Binga and Harlot was glaring at them both. So my human picked up Binga and told Harlot, "Aw come on, be friends!" So bap-bap-bap-bap-bap — Harlot gave Binga a machine-gun round of whaps across the face! They were never the best of friends. They both wanted to be in charge. Sort of like Binga and me now.
Binga has never met a stranger, and insists on greeting all visitors, whether they are good friends of the humans or the handyman (the guy who insulted her was an exception). She does not know the meaning of No. She goes where she is not supposed to go and does what she is not supposed to do. She is a food stealer and cannot handle her nip — it makes her grouchy! And the humans totally worship her. It is enough to make a sane kitty like me a little bit crazy.
I think Binga's life motto is "Well behaved cats rarely make history." Which is kind of funny because I am well behaved. Most of the time. But as with many things that go on around here, we just agree to disagree.
* * *
---
---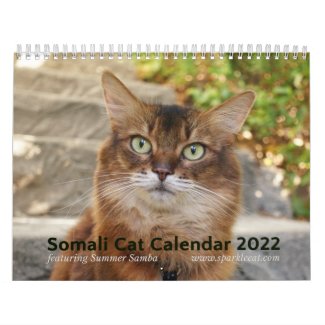 2022 Somali Cat Calendar Starring Summer Samba
See all of Summer's merch at her
her Zazzle Designercat Shop