My human was writing a CatChannel.com post about how Binga and Boodie react when I go on my trips, and she wanted some more photographs to go along with it. But getting them was easier said than done. Anything involving Binga is easier said than done!
So she set the carrier up all nice, and I was ready to pose. Boodie was almost ready to pose. But… that is not a shark fin you see in the foreground. It is a Binga ear!
My human tried to get Binga to pose nicely with us. This is her version of "nicely."
But even "nicely" didn't last very long.
I'm surprised my human got anything for her story! But eventually she did.
* * *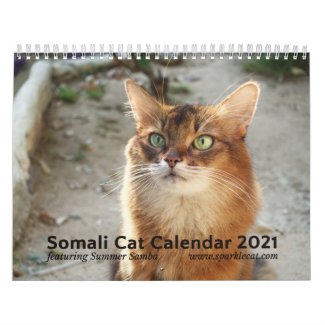 2021 Somali Cat Wall Calendar, Starring Summer
See all of Summer's merch at her
her Zazzle Designercat Shop