Since it's Tortoiseshell Cat Appreciation Day, here are some fun Binga memories of her doing a few of her favorite things.
Like enjoying catnip infused toys. A little too much.
Especially enjoying catnip toys and not sharing!
Going out on her harness and leash, which she never did until she learned from me when she was 15-1/2. What she didn't learn from me was to find all the spots my human didn't want her to go, like the street and trying to jump off high ledges. She was a handful, which is why my human took us both out at the same time only once or twice.
And especially, especially getting the way of my photo sessions. Like nearly every time.
I hope you enjoyed this look back! If you have a favorite Binga memory, let me know in the comments, and maybe I will try to build a whole blog post around it.
Other posts you'll enjoy:
* * *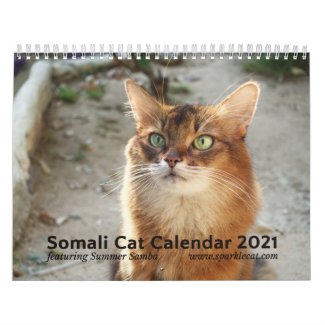 2021 Somali Cat Wall Calendar, Starring Summer
See all of Summer's merch at her
her Zazzle Designercat Shop