Do any of you humans ever have one of those days where you wake up fuzzy and stay confused for most of the day? That was how it was for my human all day! Like, she'd go to the store and wait to sign for the charge — before putting the charge card in the chip reader! Dumb stuff like that. She was probably a danger on the road, and I'm glad I didn't have to go anywhere with her. Anyhow, the day ended with her deciding to put together some photos of me with my tongue out for a Tongue-Out Tuesday post. But of course, it's Wednesday. I think she needs to get more sleep. Anyhow, since they've been arranged and edited, I figured I might as well post them. So here they are. They are all from the last week or so.
This photo is from the hotel lobby this weekend. There were some nice photos of me by the fireplace. There was also this photo.
You saw a photo very similar to this one in Sunday's post. The only difference is the tongue.
This is from the Hollywood Burbank airport. My human was having me practice waving bye-bye… and of course, I was getting treats. I also think a couple of people died from the cuteness of me waving.
This bandana came from Vet•CBD — The Pet Cannabis Company humans, who had a booth at CatCon. I think I'm supposed to share this on social media or something.
This tongue-out photo was from the session for the post that actually ran on Tuesday.
I hope you enjoyed my tongue-out photos, even though they are on the wrong day!
* * *
---
---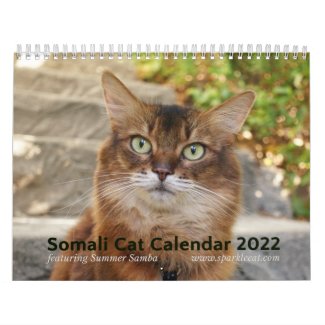 2022 Somali Cat Calendar Starring Summer Samba
See all of Summer's merch at her
her Zazzle Designercat Shop