You saw a couple good photos of me with my tongue out yesterday, but there were more where those came from! Then I looked back at several other photo sessions in May and realized I had enough tongue photos for a whole blog post. Which brings us right here.
In fact, I had enough tongue shots from this particular photo session for a blog post, an outtake post, and now this post!
There's a photo of me in my straw hat post looking cute and almost demure. Who knew that just a second before that, I had this demented face on? (The photo's numbers show they came literally one right after the other!)
The only thing surprising about my Memorial Day picnic was that there weren't more tongue shots! But I think that's mainly because my human was trying to get tongue out video of me. (And she never used any of the takes.) Here's a tiny tongue photo.
And I'm ending with the requisite raspberry for you! I hope you enjoyed my tongue shots today. Let me know in the comments if you have a favorite.
Other posts you'll enjoy:
* * *
---
---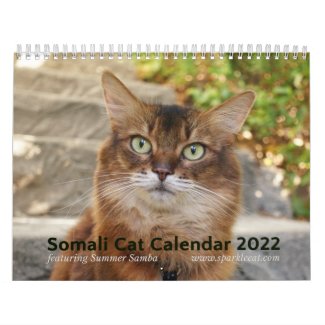 2022 Somali Cat Calendar Starring Summer Samba
See all of Summer's merch at her
her Zazzle Designercat Shop