I have a special outtake edition for you today. All my photos here, as you can see, are tongue-out photos. But in addition to that, they are rejects from my 2022 outtake calendar, which, like the regular 2022 calendar, is almost finished! Even though these photos couldn't make it in (even though it's already an outtake calendar), they are still fun and good enough to share.
There is, literally, only one reason this photo did not wind up in the calendar: I am already wearing the same dress in another photo!
Even though the intentions behind this photo are good, the quality just isn't up to calendar level.
The main reason this one didn't get in? There were lots of other options that were LOL-funny.
There were lots of fun photos for December, and the one that wound up in the calendar blows doors on all the others, including this one.
I hope you enjoyed this special edition of outtakes! As soon as my human has uploaded the calendar photos to Zazzle and gotten a proof, I'll let you know. It should only be a little over a week!
Other posts you'll enjoy:
* * *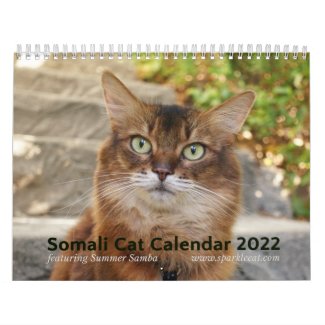 2022 Somali Cat Calendar Starring Summer Samba
See all of Summer's merch at her
her Zazzle Designercat Shop