October is not starting out very well, costume wise. One of the first costumes my human brought home was this horrendous bee costume. And as if that wasn't bad enough….
She found another one somewhere else! I didn't like either costume. And you know me, I'll wear anything! And if these bee costumes weren't bad enough….
Here's a photo of me from last year… with a bee costume! So we've already been through this once before.
I will say, last year's bee costume was more comfortable than either of this year's.
But that doesn't mean I think it's great either. To bee or not to bee? I say no more bees!
And I'm not the only one who doesn't like the bees… some of you older readers may understand why I relate to John Belushi in this Saturday Night Live skit from the 1970s.
* * *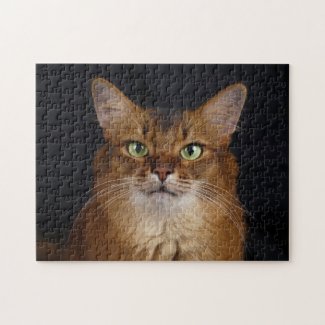 Somali Cat Photo Portrait Jigsaw Puzzle
See all of Summer's merch at her
her Zazzle Designercat Shop