At the beginning of the month, my human got an email offer from the Tidy Cats humans. If I could quickly put together some sort of logo, they said they would co-brand some $5 off coupons with me. So I told my human to come up with something for them — I figured my readers would want to save on cat litter!
I am not sure if this counts as a logo, but they used it anyway!
They told me that I would probably be getting around 25 coupons, but when they came in the mail a few days ago, I got a big surprise — there were 150 coupons!
I knew I was going to do a giveaway, just not quite this big!
So here is the scoop (pun intended) on the coupons: they are $5 off and are good for any Purina Tidy Cats litter, any size, any variety (the only litter that is excluded is Tidy Cats 24/7 Performance LightWeight Litter). The expiration date is December 31, 2014, so you have a whole year to use them. Unfortunately for my international readers, they are only good in the United States.
I am giving away a stack of 10 coupons (a $50 value) to 9 different readers, plus one more stack of 10 coupons to a lucky newsletter subscriber. I will also pick one reader who will get the remaining 50 coupons to give to a local cat rescue! All you have to do to qualify is be a U.S. resident (or enter on behalf of someone in the U.S.), and tell me you want to enter in the comments below — and tell me the name of your favorite local cat rescue. I will randomly pick the 11 winners on Monday, December 30!
There is also a bonus: when my human went to the Friskies press conference a couple of weeks ago, she came home with a "Buy 1, get 1 free" Friskies coupon. If you want the Friskies coupon, say so in your comment, and I will give it away to the first reader I pick who mentioned it, along with the Tidy Cats coupons.
It is coupon mania around here! Good luck!
* * *
---
---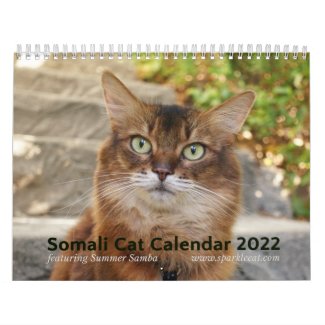 2022 Somali Cat Calendar Starring Summer Samba
See all of Summer's merch at her
her Zazzle Designercat Shop