I had Instagram followers vote on my crowns and tiaras this week, and this one turned out to be their favorite. So in addition to posing in it for them, I decided to do this week's selfie while wearing it.
I just need to put it on first…
Then grab my human's iPhone for a quick photo.
Oh no, the tiara fell off! It's really hard to hold the iPhone and keep the tiara on at the same time. Hang on while I fetch it and put it back on.
There you go! I'm not even going to try for a redo.
* * *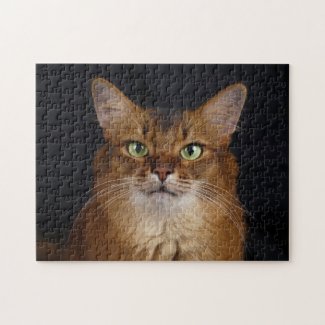 Somali Cat Photo Portrait Jigsaw Puzzle
See all of Summer's merch at her
her Zazzle Designercat Shop