My human has had a very long week — 12–14 hour days every day! In fact, she has had to do some of her work on her own because I needed my beauty rest and couldn't supervise! So to give her a break, I thought I'd look back to April, 2011, and see what Sparkle was doing.
She was mad at my human's boyfriend because he brought home some crab from Maryland… only it was a plastic crab.
In fact, he is lucky she didn't take out her ire on his guitar!
She wasn't happy with my human either because she brought home cheap Easter toys from CVS instead of buying cat toys.
She was supervising the creation of the Kindle version of her book, and making sure it came out right! It was a real learning experience for my human, but Sparkle kept her on track.
And of course, looking disgruntled and beautiful at the same time, as only she could. I don't think I'll ever master that look.
* * *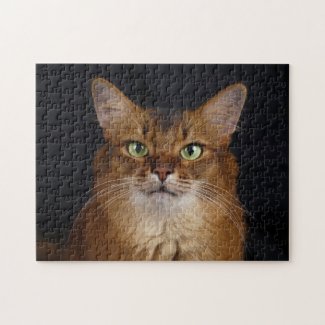 Somali Cat Photo Portrait Jigsaw Puzzle
See all of Summer's merch at her
her Zazzle Designercat Shop