Let's take a look back at March, 2016. It may look like Binga and I were goofing off here, but we were seriously busy!
Binga was helping promote the book, Tortitude, written by our pal (and fierce tortie enthusiast) Ingrid King.
Boodie got to be groomed out in the enclosed patio.
This is all the fur my human got off of her. You can see what I thought of that.
March is also my birthday month. I was two that year, and here I am posing with my cake. I was very good, and didn't dive in until my human finished with the photo.
And yes, of course I shared with Binga and Boodie. There probably would have been a riot if I hadn't!
I hope you enjoyed my Throwback Thursday!
* * *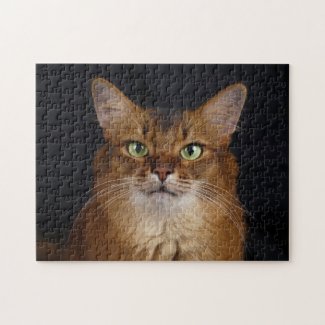 Somali Cat Photo Portrait Jigsaw Puzzle
See all of Summer's merch at her
her Zazzle Designercat Shop