I wanted to do a Throwback Thursday post, but a random search through August 2015 revealed something, um, special — so many outtakes I don't even have room for them all in one post! So here are some that I picked out.
Yes, I did say this was August, not April, but I did a lot of photo sessions for my 2016 calendar that month! This was one of them. In so many photos, the ears on this costume weren't working right. In this particular one, however, it was my face that was wrong!
I think a photo from this session wound up on the cover of the calendar. It certainly wasn't this one, however. I forgot that my human had such a long history of getting her hand in my photos.
This photo session had a surprise Boodie appearance! As you can tell, she was a little bit distracting.
I did not love the itch I had during this photo session!
You are probably wondering where Binga was during all this. Surprisingly she did not photo bomb these calendar sessions! But she was still around getting in my business.
I hope you enjoyed these Throwback Thursday outtakes!
* * *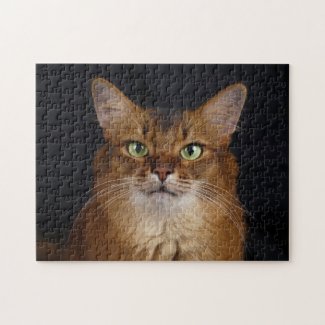 Somali Cat Photo Portrait Jigsaw Puzzle
See all of Summer's merch at her
her Zazzle Designercat Shop