So my human got this email over the weekend from the therapy pet organization we've applied to — and the next evaluation is at the end of April! We don't have any scheduling conflicts, so we can do it… but look at all the paperwork that needs to be done!
There are a whole bunch of tests I am going to have to do! They are going to make me be around noisy, clumsy people who are acting unpredictably. And they are also going to make my human leave the room so I am alone with complete strangers for three minutes! Supposedly they will give me treats for that last test, so I think I will be okay for that. Honesty, I pretty much think I can do all of it, but just in case, my human and I are going to do a lot of practicing for the next few weeks. I'm used to the cat shows by now, and the pet store, so she wants to change things up for me. She is going to take me to places I've never been before, some of them really unfamiliar and chaotic.
There is paperwork my human needs to sign and turn in — plus my veterinarian needs to fill out a health screening form for me. All this needs to be done by a certain date. Oh, and I will need a bath and nail trim for the evaluation. And if I pass, I will get a for-real therapy cat vest and a badge!
I hope I am up for this new challenge… no, I know I am up for it!
* * *
---
---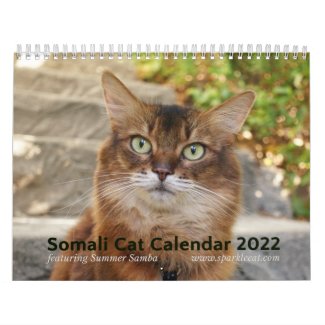 2022 Somali Cat Calendar Starring Summer Samba
See all of Summer's merch at her
her Zazzle Designercat Shop